New COSS Member Introduction: Nordic Institute for Interoperability Solutions (NIIS)
9.4.2018Linda Lehto
Blogi 0 kommenttia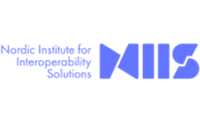 Nordic Institute for Interoperability Solutions (NIIS)
The Nordic Institute for Interoperability Solutions (NIIS) is an association founded jointly by Finland and Estonia. Its mission is to develop e-governance solutions, kicking off with the X-Road technology used nationwide in the Estonian X-tee and in the Finnish Suomi.fi Data Exchange Layer service. The following activities, among others, are undertaken by NIIS with regard to the X-Road and other core e-Government infrastructure components as decided by NIIS members:
management, development, verification, and audit of the source code
administration of documentation
administration of business and technical requirements
conducting development
developing and implementing principles of licensing and distribution
providing second-line support for members
international cooperation.
NIIS is both a network and cooperation platform, and executioner of IT developments in members' common interests. The institute focuses on practical collaboration, sharing of experience and promoting innovation. The operating model of the institute is something quite unique in the world.